Speaker Amanda Anderson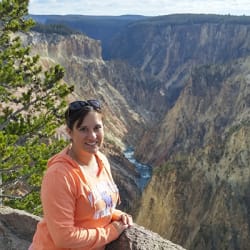 I am a fun-loving, adventure seeking, and hardworking mother of 3 children living my best life with the people I love the most! I currently own and operate Daredevil Consulting, a marketing and business consulting company in Altoona, WI. I specialize in all forms of digital marketing, customer service training, and revenue management. My experience comes from 11 years working as a hotel General Manager, Sales Manager, Revenue Manager, and Director of Marketing at a multi-million-dollar resort in Northwestern WI. My background has given me the opportunity to understand all the facets of running a hospitality business. At the end of the day, all these roles had the same goal… increase profit while creating a fun, memorable, and positive family experience for all our guests. Through this, I have learned how to maximize profit without losing the trust of the customer. I hope to pass along my "tips of the trade" and help you gain a better understanding of how you can successfully manage revenue and create a great customer experience that will turn your customers into brand ambassadors!
Session Information
November 9, 2021 - 1:00 pm - 2:00 pmDive into Dynamic Pricing
During our one-hour session I will share my personal experience with dynamic pricing, revenue management, and yield management. We will discuss how to utilize all three strategies, different implementation strategies, and why you shouldn't be afraid to use them. We will also tackle how to effectively market your value, set prices based on demand, and ultimately how to listen to what your customers are (not) telling you. Making simple changes in pricing structure, value perception, and forecasting will significantly increase your revenue without sacrificing customer satisfaction. I will share strategies that will allow you dive right into dynamic pricing, creating a better bottom line without losing your customer's trust.
---
November 9, 2021 - 2:15 pm - 3:15 pmMaximize Revenue Opportunities
"How did we work so hard, just to make so little?"
Have you ever come to the end of a very successful, fully booked season feeling like you're on cloud nine, just to get yanked back to earth by a bleak bottom line on your P&L's? This is a heartbreak we see far too often. These are the heartbreaks that lead to burnt-out business owners. During this session, we will explore different ways to maximize your revenue opportunities through site pricing, recreation activities, rentals, and other ways your park can make more money. We will also discuss how to market these revenue opportunities without a huge marketing budget.
---
November 9, 2021 - 3:30 pm - 4:15 pmManaging, Motivating, & Getting the Best Out of Front-Line Staff
Motivating your frontline employees to support your business goals can be a struggle. You might feel like you have tried everything from rewards & incentives to threats of disciplinary action to motivate employees. So why is it so difficult for certain front-line employees to follow protocol? What can you do to successfully motivate your customer-facing workers? During this session we will discuss ways to ensure you get the right people in the right roles, how to keep good employees, how to empower them, and how to get everyone working towards the shared goal of creating the best customer experience.